BREATH (Border and REgions Airways Training Hub) is a €7.75 M collaborative cross-border project focussed on increasing research capacity in the area of chronic obstructive pulmonary disease (COPD) and currently supports 16 4-year PhD students and 8 PDRAs across 3 institutions: Queen's University Belfast; Dundalk Institute of Technology and the University of the West of Scotland.
The Irish Thoracic Society Annual Scientific Meeting, held in the Europa Hotel, Belfast (23rd-24th November 2018) provided an excellent forum for the BREATH students, at the end of their first year of post-graduate training, to present their work. In total 17 abstracts were submitted and each one was selected for either a full oral presentation or posters with an oral poster discussion. The event was also a great opportunity for scientific discussion and networking and provided a further platform to highlight the exciting research that is being conducted across the BREATH partners.
The conference had a number of guest lecturers who provided excellent, informative and highly stimulating talks. Special highlights included: a lecture on Demystifying Challenges in the Management of Idiopathic Pulmonary Fibrosis by Professor Martin Kolb, MD PhD, Director, Division of Respirology, Moran Campbell Professor and Chair in Respiratory Medicine, McMaster University, Canada; an inspiring lecture on The Greatness Within by Mr David Crosby, Double Lung Transplant Recipient and Marathon Participant, was followed by Professor Karen Redmond, Thoracic and Lung Transplant Surgeon, Mater Misericordiae University Hospital, Dublin, with her lecture: Lung Transplantation: Beyond the Ordinary. Professor Liam G. Heaney, Professor of Respiratory Medicine, Centre for Experimental Medicine, School of Medicine, Dentistry and Biomedical Sciences, Queens University Belfast, closed the meeting with a lecture on New Developments in Asthma Management.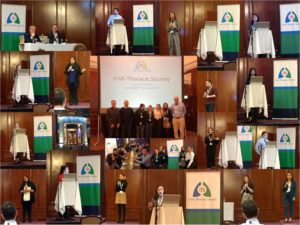 BREATH students, PDRAs and PIs at the Irish Thoracic Society Annual Scientific Meeting 2018, Belfast

Back to Latest News