The annual BREATH conference took place virtually on Monday 21st – Wednesday 23rd of June and was hosted by DkIT. Like previous years, the conference consisted of BREATH PhD student presentations and presentations delivered by pharmaceutical industry representatives.
Day one of the BREATH 2021 consisted of five presentations and Q&A sessions by the industry representatives. Prof Keith Thornbury, lead of the BREATH project, welcomed us all to the conference and introduced our first speaker, Dr Ian Lobb, Technical leader at Almac discovery. He gave a background on the work of Almac Discovery, and on a particular project focusing on deubiquitinating enzymes (DUBs), which are proteases that catalyse the de-ubiquitination of protein substrates and therefore offer an alternative way to regulate protein homeostasis by affecting protein stability, signalling and trafficking.  Dr Lobb introduced us to UbiPlex, a purpose-built drug discovery platform for the identification and optimisation of DUB inhibitors. This drug discovery platform has been used to identify multiple DUB targets in disease relevant preclinical models. He also described the collaborative project between Alamac discovery and BREATH, where they are currently exploring if DUB knock-out affects ENaC, CFTR or TMEM16A ion channel activity in primary cell air-liquid interface cultures.
The second speaker for the day was Prof. Helen McCarthy, CEO of pHion Therapeutics and Professor in School of Pharmacy, Queen's University, Belfast. Prof McCarthy spoke about novel nanoparticle-mediated drug delivery system for nucleic acid delivery. She spoke about RALA nanoparticles which have many advantages, such as high cell transfection/cellular entry, minimal toxicity, self-assembly with nucleic cargo irrespective of size, non-immunogenic which facilitates repeated dosing and many more. She spoke in depth about using this delivery system for the HPV vaccine. She also spoke about using this novel delivery method for vaccine development and treatment of Covid-19. She also discussed her association with BREATH Student Emma Carroll from Queen's University, where they used the RALA peptide drug delivery system to transport an alpha-ENaC small interfering RNA (siRNA) cargo into human airway epithelial cells (hAECs).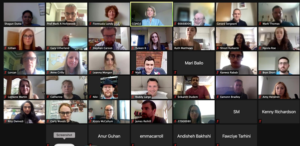 This was followed by an insightful talk entitled 'Axis Bioservices- not your average CRO' from Dr Jenny Worthington, co-founder and director of science at Axis Bioservices. Dr Worthington gave an inspiring account of her transition from cancer research to achieving her goal of creating and managing her own contract research organisation (CRO). Axis Bioservices is a preclinical CRO which specialises in oncology and respiratory diseases that has gained clients and status worldwide. Dr Worthington gave a fascinating overview of the services Axis Bioservices provides and also an honest account of the benefits and hardships encountered when developing your own spin out company. As a final note, Dr Worthington also kindly extended an invitation to students to contact her if considering a career in a CRO.
The penultimate speaker of the day was Dr Bob Pollard, CEO, Founder and Director of Causeway Sensors. He spoke about the scope of nanotechnology for drug discovery and healthcare. He gave a detailed insight into the potential applications of a gold nanorod chip, built by Causeway sensors for easier and quicker biological detection and diagnosis. Dr Pollard gave an overview of his own professional experience and discussed the future goals of Causeway Sensors in the healthcare sector.
The final speaker of the day was Dr Frances Weldon, STEM outreach manager at Almac Group.  Dr Weldon spoke about the wide range of career opportunities at Almac providing invaluable insights into the various roles within a pharmaceutical industry. Dr Weldon also gave an overview of her own professional journey into pharmaceuticals and kindly offered to lend a helping hand to any of the BREATH students that may be making the same step.  To conclude the first day, Prof Thornbury thanked all of the industry partners at Almac, pHion Theraputics, Causeway sensors and Axis Bioservices for their insightful presentations.
Day 2 of the conference commenced with a gracious welcome and overview of the day's schedule from Prof. Gerard Sergeant (PI, DkIT). Without delay the first session of PhD student presentations, chaired by Dr. Nicholas Mullins (PDRA, DkIT) was underway. The speakers in this session included, Emma Carroll (QUB), Fawziye Tarhini (UWS), Leanna Morgan (DkIT), Kirsty McCallum (UWS), Orla Dunne (QUB) and Ruth Matthews (DkIT). During this session the multidisciplinary scope of this collaborative research project was evident by the range of scientific data and techniques presented. Techniques used ranged from novel drug delivery platforms such as RALA/siRNA nanoparticles, confocal calcium imaging, electrophysiological recording to molecular techniques such as RT-PCR, qPCR and immunoblotting. Students expertly presented and discussed their recent data or an overview of their project. This covered topics from novel Na+ currents in airway smooth muscle, molecular silencing of epithelial Na+ channels to modulation of agonist-induced Ca2+ oscillations as well as PAR2 in COPD cellular aging and the inflammatory mediators resulting from oxidative and mechanical stress in the airways. The standard of data presented was impressive, with clear advancements made in the field of airway function and pathophysiology.
The afternoon session of day 2 was chaired by Dr Joanna Brzeszcynska (PDRA, UWS) and included presentations by Shruti Kulkarni(DkIT), Mariarca Bailo (UWS), Tuleen Alkawadri (DkIT), Gillian Kelly (QUB),  Mark Thomas (UWS), Nicola Roe (QUB) and Shagun Dutta (UWS). All BREATH PhDs presented and defended their extensive research work brilliantly. The research presented in the session included S6 helix mutations of BKa channel effecting LINGO1 tail peptide, role of PAR2 in regulation of pro-inflammatory cytokine production and aENaC, involvement of postjunctional M2 muscarinic receptors in the enhancement of nerve-evoked contractions of airway smooth muscle, SerpinaA5 an putative biomarker of COPD. Further presentations included work on downregulation of PAR2-mediated calcium signalling by blockers of TRPA1 and TRPV4 and human rhinovirus, RV-A16 infecting airway neuronal model. The last talk of the day focused on occurrence of COPD within the Scottish population. The second day of the conference was concluded by Prof Gerard Sergeant commending every presenter for their impressive work.
The last day of BREATH conference started with an opening address by Prof Gerard Sergeant. It was the final session of student presentations chaired by Dr James Reihill from Queen's University, Belfast. In the morning session, we had students from the three universities giving excellent presentations with varies topics such as i) airway irritant induced modulation of neuronal pathways in COPD by Niall Downey from QUB, ii) the effect of TMEM16A antagonists on the intracellular basal Ca2+ level in murine bronchial smooth muscle cells by Ritu Dwivedi from DkIT and iii) whole and component diesel engine particulate interaction with protease activated receptor 2 by Carly Woods from UWS.
In the second session, which was chaired again by Dr James Reihill, we had students present their comprehensive research presentations on topics such as:  i) investigation into the innate immune responses of airway epithelial cells to AECOPD-associated pathogens by Stephen Carson from QUB; ii) comparison of the lung microbiome in chronic obstructive pulmonary disease and in health: an in silico study by Bryn Short from UWS and iii) examining the role of PIP2 modulation and PIP2 binding residues for their effects on SR-5-6 mediated activation of Kv7.4 channels by Kaneez e Rabab from DkIT.
After the final presentation, Prof. John Lockhart from UWS gave a closing address applauding the great talks from the students. Prof. Keith Thornbury and Prof. Gerard Sergeant also gave brief closing remarks thanking everyone for joining the conference, acknowledging excellent student talks and the team from DkIT for efficient organization of the virtual conference.
Back to Latest News