Chronic obstructive pulmonary disease is serious progressive lung disease, and is prevalent in Ireland, Northern Ireland and Scotland.  People with COPD are in the high risk category for the coronavirus.  The central mission of the BREATH Team is combating COPD through research and public awareness.
With the upsurge in home schooling in the face of the current coronavirus pandemic, the BREATH team have now revised the formal class BREATH Challenge into a form for use as a home schooling exercise.  While originally intended as a class exercise, children (and parents) are invited to individually download and have a go at the revised challenges below.  Successful completion of all the challenges (a key can be provided if needed) results in award of the Individual Certificate of Success which we have also provided as a downloadable file, enabling parents/teachers to complete with pupil's name and primary level.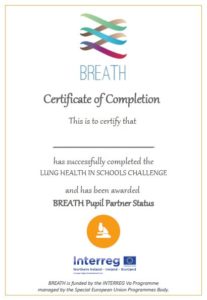 We encourage those who engage and achieve award to please send a photo of themselves (with award if you can print), and with your permission we will post these in a gallery of BREATH Young Stars!
The Challenges can be downloaded (depending on region) by clicking on the following links:
Challenge 1 – Cartoon Quiz Logo     –   IRELAND
Challenge 1 – Cartoon Quiz Logo     –   NORTHERN IRELAND
Challenge 1 – Cartoon-Quiz Logo     –   SCOTLAND
Challenge 2 – Air Pollution Crossword
The best cartoons will be posted on BREATH website along with pupil and school names.
Challenge 5_Safety from COVID-19
———————————————————————————————–
BREATH School Partner Certificate HOME SCHOOL  –  Downloadable
———————————————————————————————–
Any queries can be directed to the email contacts below.  We also welcome cartoons and photographs of successful pupils for posting on the BREATH Website. These can be emailed to either:
Good luck!
The BREATH Team

Home Activity – 'The Breathing Lung'
Please click on link below to see video by PhD students Kimberly Black and Kirsty  McCallum demonstrating how to build a model of a lung, to show how your lung breathes normally by negative pressure ventilation.

SUBMISSIONS GALLERY
Rona: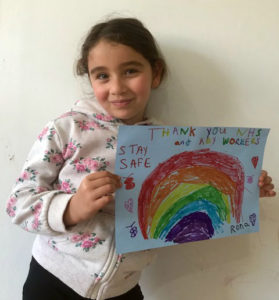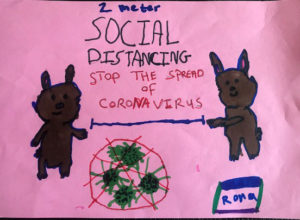 Dalaa: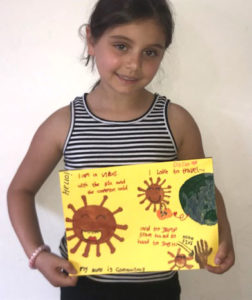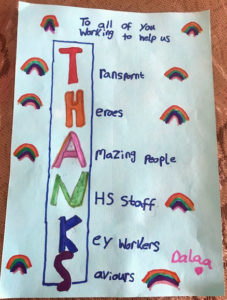 Congratulations to our budding artists!
SEUPB Posted arwork – click here
Back to Latest News